Men's Winter Fashion Trends and Looks
Men's Winter Fashion Trends – Winter Tartan!
Men's Winter Fashion Trends – With winter here as we brave the month of December, fashion trend alerts all ring for tartan plaid this season. Tartan plaid made a shocking comeback over the past two fall / winter seasons, but with 2012 coming into view, this winter season tartan plaid is grabbing some serious attention from major labels and trendsetting fashionistas alike.
No longer is the staple of plaid just about the lumberjack or Brooklyn hipster nor is tartan plaid solely exclusive for Scotsmen and their kilts, but it is here to truly define that trendy chic style this season.
We all know and have seen the emergence of plaid over the last couple of years for summer / spring as well as fall / winter. Though, what sets tartan plaid apart from the existing buffalo plaid or flannel checks, is its tradition and sense of class.
Tartan plaid has been around from the eras of kilts and bagpipers with classic color palettes of reds, blacks, greens, and blues. With its emergence into the spotlight, designers are adding a twist on the traditional look with bold colors and unconventional silhouettes.
Whether you're embodying your favorite Braveheart character, Mary, Queen of Scots, or looking for a dressier solution to the relentless slew of plaid for nights out or the office, tartan plaid is a must.
Adding a splash of it in your undershirt makes for a tame trendy look, but for the serious fashion-forwarder, a full tartan plaid suit will have everyone turning heads and following in your footsteps faster than you can say "Oh, Danny Boy".
Check out our men's winter fashion looks and trends here:
Men's Fashion Tips For Winter Accessories
The time has come to dust off that derby hat, fedora, or bowler as we head into the months of flaky white precipitation that shall remain nameless. Yes, gentlemen, with winter rounding the river bend, fashion is all about accessories for the cold seasons of parkas, fur-lined boots, and gloves galore.
Scarves and furry hats mean business this season not only to keep you from suffering from acute frostbite, but also to show off that trendy fashionisto deep inside.
Here is our survival guide for Men's winter accessories:
Winter Hats for Men:
We need 'em to keep our little ears warm and our head dry from the cold and wet "stuff" that falls from the sky. Beanies are a total must this season for an easy casual look when braving the cold. Simplicity is key here with the winter hat. Leave the ear flaps, fuzzy ball, and "christmas sweater" print at bay when donning a staple solid color or striped beanie.
For more of a classic and dressier look, try a wool fedora equipped with band and feather to really spark some trendsetting. Hats come in all shapes and sizes – fedora, bowler, derby, paperboy, gatsby, homburg, porkpie, trillby, and the list goes on. Keep trying different shapes and sizes on until you look fly in your headgear.
Last but not least, furry hats are so in this season that all of Russia (which may or may not be seen out of the backyard of a certain politician) will be turning its head in pure admiration and pride. Furry hats may look a little off but make a serious statement. Not to mention, they keep you oh-so-warm and toasty!
Men's Winter Fashion Trends: Scarves
The scarf has trickled down into every season and is no longer a staple for winter with summer scarves, ascots, pashmina, etc. Though, nothing keeps you from being a frozen corpse whilst hailing a cab like a nice thick scarf. Wool, cashmere, or wool-cashmere blend  offer classic pieces that will keep that neck and chest free from the frostbite.
Try oversized scarves to show off your true stylish self or perhaps rock a snood (combination scarf and hood) this season.
Men's Winter Fashion Trends: Gloves
What better way to combat the cold than with a good pair of gloves? Gloves are an essential for the cold drafts and icy nights keeping those digits intact. Leather gloves are always the right way to go. Try switching up to color this season with bold choices such as burnt tan, scarlet red, and jet blue.
Nothing makes a person more grumpy in the winter than the inability to feel one's fingers.
So, there you have it. Go out a get yourself some quality accessories for the winter season to stay stylish and keep that bod super warm. Happy hunting!
Men's Winter Fashion Trends: Coats
Searching for the perfect statement coat or jacket this winter? Look no further! This upcoming season's hottest trend (aside from boots) is all about the winter coat. Gentlemen, the time has come to show off that true shining personality and to embrace your fashionisto self.
Winter coats are splashing across the streets and stores in full gear for imminent months of cool crispness that are to come within the next few months.
Some of this season's hottest designers are sticking to the ever popular military inspired British fashion invasion. Military coats fully equipped with epaulets, bold brass buttons, military bands and stripes, and neutral colors are blasting off with full force.
These beauties will have you double barrel saluting your shorts off. Nothing draws attention like a fierce coat with beautiful military inspired detailing. There is something quite clean, crisp and alluring about these jackets, whether it be their classic details or beautiful tailoring.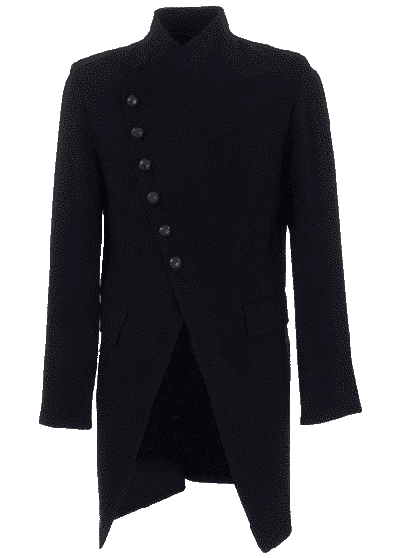 Another hot fashion trend for the season of "Chrismahanukwanzakuh" is asymmetry. I, myself, am all about asymmetrical lines, details, hems, etc. You could put an asymmetrical anything on a garment, and I would run, kick, and beat people to snatch that puppy up.
Asymmetry is hot this season because it's different, unconventional, and fully paving a new trend for men's fashion. The unique design of asymmetrical coats sets the wearer apart from the masses of typical black pea coats.
Lastly, camel is super hot this season raging across the runway straight to your closet. Camel and neutral tones are so classic and timeless, that any man who dons a beige tone means business. I'm equating the rise of the camel coloring to women who wear white coats in the winter. You see the white coat and ask yourself how one could wear such a color in the dreary mass of sleet and snow, yet, you can't stop staring.
Why? The fact of the matter is the white coat is timeless, and its pristine self is almost surreal amid the muddle of grey slush and yellow-stained snow. Camel has the same effect for men. The color makes you wonder, but you can't keep your eyes of that stylish fellow. Camel, it's here. It's so in this year.
Check out some of our favorite coats for men's winter fashion trends here:
This fashion blog post about Men's Winter Fashion Trends was published by Nazmiyal antique rugs located in the heart of Manhattan New York City.