Antique Persian Kashan Dabir Carpet
Antique Persian Kashan Dabir Carpet is this week's Wishlist Wednesday Rug.
Persian Kashan Dabir Carpet – Every Wednesday, We At The Nazmiyal Collection in New York City, features one spectacular example of a hand-made vintage or antique rug from our vast collection. We select each and every piece based on its unique aesthetic beauty, conceptual merit and / or history.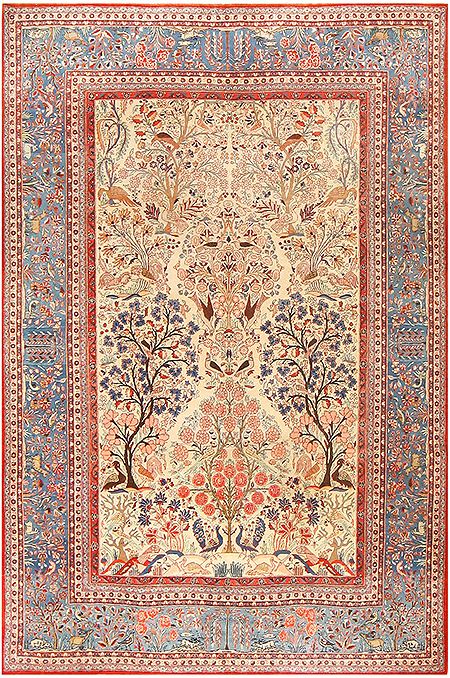 This week's Wednesday Wishlist rug ( Antique Tree Of Life Design Persian Kashan Dabir Rug 48133 ) , is wonderfully colorful and full of detail. Its field depicts a lush scene of exotic animals and flowering trees; Birds of every kind peek out from behind tree branches, and fawns and rabbits playfully prance along the equally detailed border. Composed in vibrant blues, peaches, and reds, this rug would add a lush element to any interior.
Kashan, the city where this magnificent antique Persian rug was woven, has been an important area for Persian art for centuries. In addition to fine rugs, this area is known for producing beautiful silk textiles and ceramics. Kashan rugs are known for their elaborately designed fields and vibrant colors, both of which are beautifully illustrated in this example from Nazmiyal. Animal motifs, as well as garden scenes, are popular motifs in these rugs. Persian Kashan Dabir carpets are particularly fine, as they are made from soft Merino wool.
The lively colors and playful animal motif of this beautiful antique Persian Dabir Kashan rug are perfect for livening up any interior as a room size rug. If you're looking to add a vibrant element to your home, this gorgeous carpet is just the thing!
This antique rug blog about the magnificent and extremely fine Persian Kashan Dabir Carpet posted above was published by Nazmiyal Antique Rugs which is located in the heart of Manhattan, New York City.