Comprehensive Resource Guide About European Rugs and Carpets
Search Our Entire Collection of Antique and Vintage Rugs
Guide to European Rugs and Carpets by Nazmiyal:
European Rugs - Despite a history that is not as ancient as that of the antique rug weaving tradition, European rugs and carpets represent a unique development in the world of fine weaving.
European Rugs Fit for Royalty
European rugs are revered for their progressive, pioneering decorations and natural sense of style. These luxurious and occasionally modern creations represent the pinnacle of elegance. Like the intentionally distinctive cultures of Europe's great countries, European rugs represent a comprehensive selection of style and traditions. On the edge of Europe's eastern frontier, Romanian weavers produced splendid floral carpets with lush European bouquets depicted in an Eastern European style.
In Spain and later in Ireland, classical European carpets with heraldic colors and formal floral patterns became sought-after status symbols. In Flanders, Belgium and France, weavers created spectacular neoclassical tapestries worthy of any fine European estate or aristocratic palace. Even as the 20th century changed the course of art, European rugs still reflected the cultural zeitgeist and the emergence of art deco and classically modern trends.
From the amazing tapestries of 17th century Belgium, to the dynamic Art Deco carpets of turn of the century France, to the unrivaled mid-century rugs and carpets from Scandinavia, Europe boasts an impressive range of artisanal weavings, with many styles being developed on and remaining unique to the Continent.
1. Antique Heraldic 17th Century Flemish Tapestry
A 17th century tapestry woven in the Baroque style was brought back to public attention in 1875 after having been believed to have been lost for decades. It is of Flemish origins, and was likely created by an artist based in Brussels. This particular tapestry is actually an artfully-woven composite of many other tapestries. The pieces were combined so skillfully that this is almost impossible to tell through the naked eye. [Read More: 17th Century Flemish Tapestry]
---
2. A Collection of French Carpets
French carpet-making has a rich history that spans over 300 years. The Savonerrie style was born in the 17th century and drew inspiration from Baroque architecture. These rugs originally were only produced for the crown, though they reached the popular market in later centuries. The Aubusson style, in contrast, reached a height of production much later, in the 19th century. [Read More: A Collection of French Carpets]
---
3. Vintage Swedish Scandinavian Rya Rugs
The first pile-carpets appeared in Scandinavia around the year 800. The rugs were brought through trade and as a direct result of the vast influence of the Byzantine Empire. In the next four hundred years, Scandinavians began weaving pile carpets of their own. These rugs served a practical purpose, helping their owners stay warm in the harsh arctic climate. [Read More: Vintage Swedish Rya Rugs]
---
4. Antique 16th Century Spanish Alcaraz Rug
This carpet features a dark blue field with details woven in orange and yellow, forming a colorful contrast. The design is primarily symmetrical, and features both a dragon motif and bead chain designs. The pattern was inspired by either Spanish or Italian 16th century velvets. The contrasting color scheme also is a typical feature in the silk velvet textiles of Europe. [Read More: Antique 16th Century Spanish Alcaraz Rug]
---
5. Antique Greek 17 Century Silk Embroidery Textile
This antique Greek embroidered textile was made in the Epirus style. It features a light design with tulips and carnations--lasting influences stemming from Turkish rule. These kinds of rugs were often made by the women of a household and were usually not meant for mass-consumption. The design was spontaneously made rather than pre-planned, and the textile as a whole is a beautiful example of folk art. [Read More: Antique Greek 17 Century Silk Embroidery Textile]
---
6. Learning about European and Early Rugs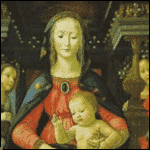 Although examples of knotted carpets were known and produced in the classical world by late Roman times in Egypt, they do not seem to have been part of the larger Roman heritage that passed down to Medieval Europe. [Read More: Learning about European Rugs]