Wednesday Wishlist: Oversized Decorative Agra Rug
This Breathtaking Agra Rug Should Be On Your Wednesday Wishlist.
This week's Wednesday Wishlist rug is a recent addition to our ever growing gallery. Agra carpets are woven with only the highest quality in mind and are considered to be some of the most coveted decorative pieces around the world. No example is better suited to represent the fine weaving of Agra rugs than this weeks Wednesday Wishlist Rug: a breathtaking oversized antique Agra rug.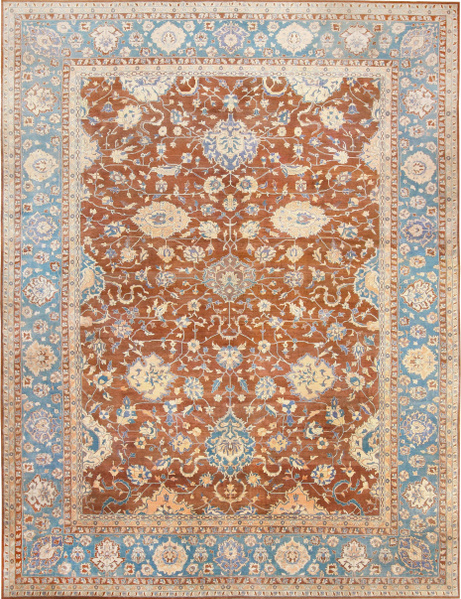 This is a spectacular oversized Agra rug. It's dreamy blue hues flow throughout the exquisite border, making light but deliberately effective appearances in the heart of the cocoa brown center. This is an extremely ethereal and beautiful rug, not to mention rare, as rugs at this caliber and size can't be found as easily. See more antique oversized rugs.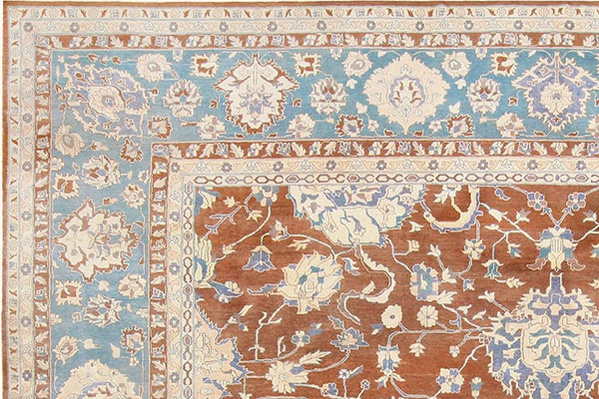 The border has plenty of blue and ivory floral patterns, woven in between varying sizes of blooming flowers. The vines grow and intertwine and sprout smaller flowers towards the middle of the chocolate colored heart.
Here a close up detail of the heart of the rug shows the intricate care taken in creating the details. A wash of cocoa brown acting as a back drop for the bright intertwining blue and ivory flowers. A beautiful mix of large and small flowers and leaves connect in a map of vines producing a breathtaking pattern.
The sheer size is already something to leave viewers in awe. Measuring 20″8 x 26″8′ this specific Agra rug is decorated from corner to corner making it a beautiful large decoration piece. Originating from India from the 1900's, this stunning Agra Antique Rug and is part of Nazmiyal Antique Rugs collection of rare rugs.
See more blog posts about rugs and carpets by Nazmiyal.
How would you style this antique rug? Let us know in the comments below!