Vintage Scandinavian Kilim by Ingegerd Silow
Vintage Scandinavian Kilim by Ingegerd Silow is This Week's Wishlist Wednesday
Vintage Scandinavian Kilim by Ingegerd Silow – Every Wednesday, TheNazmiyal Antique Rugs features one spectacular example of a hand-made vintage or antique rug from its vast catalog. We select each piece based on its aesthetic beauty, conceptual merit, and history.
Vintage Scandinavian Kilim 48148, and Portrait of the Weaver, Ingegerd Silow. This week's "Wednesday Wishlist" is a lovely vintage Scandinavian kilim by master weaver Ingegerd Silow. Perfect for the season, this rug is inspired by the beauty of leafless winter trees. Although the tree branches in this composition are recognizable, they are geometrically abstracted in a way that is perfectly in line with mid-century Scandinavian design sensibilities. Rendered in a palette of warm burnt umber and ocher, as well as cool shades of charcoal, this piece is at once vibrantly shaded and sophisticated in a neutral way.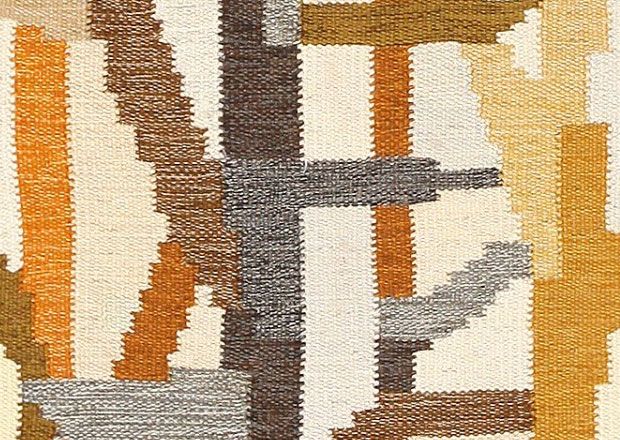 Ingegerd Silow is best known for combining her striking sense of color and geometry with the charm of traditional Scandinavian folk patterns and motifs. Her rugs are chic and subtle, but retain an air of whimsy that Scandinavian folk art is known for. This piece, which perfectly demonstrates the marriage of Scandinavian tradition and modern design, would be a lovely addition to any contemporary interior. Read Yves Béhar's take on Modern Design.
See more rug related blog posts by Nazmiyal Antique Rugs in Manhattan, New York City