Creating Custom Size Moroccan Rugs and Carpets
Shop Our Entire Collection Of Vintage Moroccan Rugs | Learn About The Different Moroccan Rug Styles and Types | Berber Carpets and Rugs From Morocco
Custom Moroccan Rugs – Are you considering purchasing a vintage Moroccan rug or carpet? Do you find that you are having difficulty locating a piece that's large enough for your space? This may be the case because original vintage rugs from Morocco were never woven wider than 6 or 7 feet. However, the Nazmiyal Collection has successfully developed a method of joining together two or more rugs to create  large size Moroccan rugs – a process that is especially well-suited to Moroccan rugs.
Create Your Very Own Unique Custom Made Moroccan Rugs
Custom Moroccan Rugs – Moroccan rugs are among the most beautiful and most widely used type of vintage rug. Because of the asymmetry and unique elements of design that make these folk art rugs so distinct from other styles, customers have the unique option of creating custom size rugs from two or more, totally separate, Moroccan rugs.
Generally, Moroccan rugs (especially the Beni Ourain rugs) are characterized by abstract, non-repeating patterns of tribal elements and color. This makes them ideal for joining together to create one completely unique custom made rug.
* Vintage Moroccan rugs use brighter colors and abstract patterns, combining them creates beautiful custom made rugs perfect for a modern contemporary home.
* Bright colors and contrasting patterns mix well together in this custom made modern Moroccan rug.
See this example of custom made Moroccan rugs:
For example, the two vintage rugs pictured below (one 3′ 1″ x 6′ 2″ and the other 3′ 2″ x 7′ 6″) were chosen by a client to be joined together into one large rug (sized 6′ x 6′ 2″ in the end). As you can see, when joining together two or more Moroccan rugs to create a custom-size piece, the appropriate alterations are made to create one attractive, coherent rug.
You will notice that the longer of the two rugs used in the construction of this custom size rug had to be slightly cut down so that the end-product wouldn't be misshapen and irregular. However, the aesthetics of the longer piece remain intact even after being altered, a result of extremely careful professional work.
* Colorful lines in this Moroccan rug match the colored checkers of the other rug.
More Custom Made Moroccan Rugs:
For example, the two Moroccan rugs pictured below (one 3′ 10″ x 3′ 10″ and the other 4′ 3″ x 6′ 2″) were chosen by a client to be joined together to create one large, custom made Moroccan runner rug (sized 3′ 10″ x 10′ in the end).
The end result is something totally distinctive that also incorporates the very finest elements of both pieces. These two colorful rugs, which were beautiful on their own, come together to make something that is greater than the sum of its parts.
* Not only are custom made Moroccan rugs beautiful, you can customize them to be any size you want.
Custom making your own Moroccan rug is easy, start your search on our site today.
No matter what rugs you pick, combining Moroccan rugs to make your own custom made rug creates a beautiful accessory to your home. Now that you have a rug in mind, see how to decorate your home with a Moroccan Rug!
If you want to get the ultimate perfect holiday decor gift, make a custom-made rug for the perfect style, color and size specifically for your loved one. Pick and choose two or more vintage Moroccan rugs to combine in any way to create a masterpiece that is the most perfect and thoughtful gift.
Whoever receives this present is lucky to have you.
If you are looking for a large Moroccan rug, please view our vast selection of original vintage Moroccan rugs and let us know which pieces you are most interested in. Our expert sales team will assist you in creating the perfect size for your space. Please do not hesitate to call one of our carpet experts to discuss any special or custom sizes you wish to create.
More Custom Moroccan Rugs Creations
Custom Moroccan Rugs – There exists a tremendous range of antique rug styles. From the more classically composed Persian rugs with central medallions and ornate scroll-work, to the more abstract Art-Deco Swedish rugs which might feature a minimalist field, there is an antique rug style for just about everyone. Moroccan rugs, one of the most enduring and popular styles, offer something unique to buyers of antique rugs: the option to create something totally unique.
Because Moroccan rugs will traditionally sport abstract and colorful design elements arranged in a seemingly irregular manner, they are ideal rugs for combining together. Two or more Moroccan rugs may be stitched together to create one large rug, thus giving the customer the opportunity to create a unique piece that is perfectly suited for any space.
For example, the three Moroccan rugs pictured above (one 4′ 7″ x 12′ 7″, one 5′ 3″ x 12′, and the other 6′ x 11′ 2″) were chosen by a customer to be joined together into one large, room size piece (sized 12′ x 16′ 6″ in the end).
As you can see in the image of the finished product, the unique beauty and design elements of each of the three rugs used in the construction of the larger piece are on full display, playing off each other in a wonderfully harmonious manner, creating a new rug that is greater than the sum of its parts.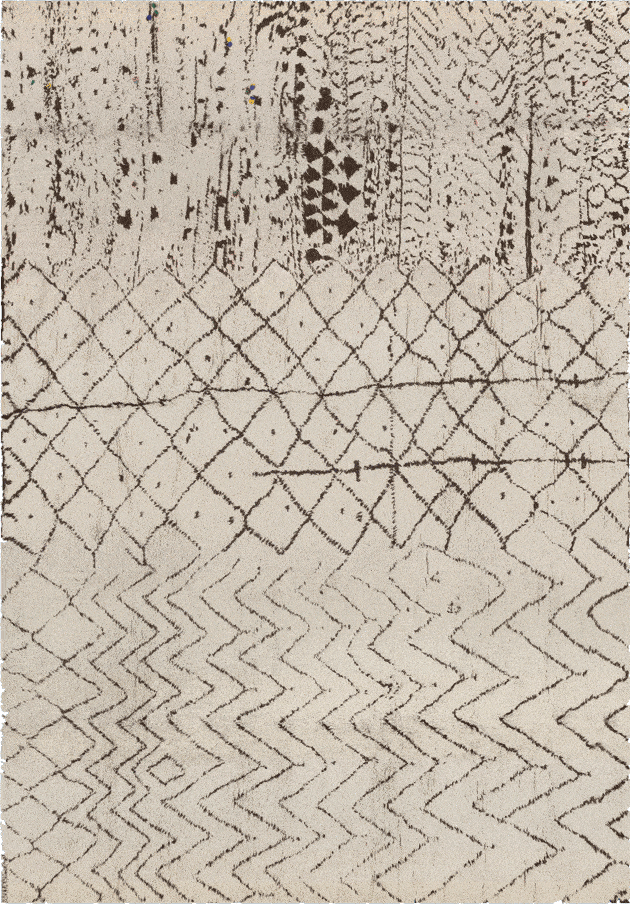 This rug blog about Custom Moroccan Rugs was published by Nazmiyal Antique Rugs in new York City.