Kimberly Hotel Rooftop Bar In NYC
Review of the The Kimberly Hotel Rooftop Bar in NYC
Kimberly Hotel Rooftop – With the recent string of rather suspicious spring weather we've been having in New York City (post-snow-Saturday, of course), the time has come to revisit one of our favorite topics that we haven't touched on for quite some time: ROOFTOP BARS!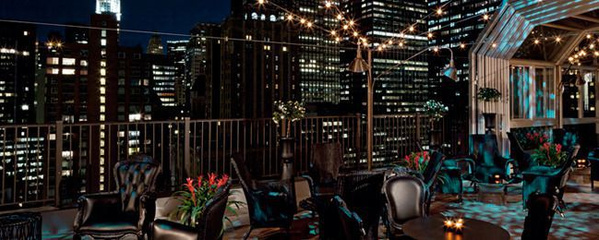 Yes, ladies and gentlemen, we are back with featuring our favorite locales for eclectic atmospheres and a fiercely stiff cocktail. Spring and summer seem to be a little far off in a distant land, BUT the seasonal change will be here sooner than you know, hopefully. That being said, we decided to feature one of our latest finds, Upstairs at The Kimberly Hotel.
Upstairs at the Kimberly Hotel is a space unlike many located in Midtown East, Upstairs opens up to a beautiful modern and chic space. Though our recent visit found us there in the colder months, Upstairs has a great sense of panache and a severe aroma of style.
The "indoor" area resembling something akin to a greenhouse is a beautiful and romantic setting with full glass enclosures and a glass-panel ceiling that is retractable for the warmer nights that are to come.
What I really love about The Kimberly Hotel Rooftop is the outdoor patio that is open year round. This gorgeous al fresco area is full of brick walls covered in ivy, wrought iron decor and furniture, and a view that is absolutely breathtaking.
Fully equipped with enough space heaters to give global warming a new meaning, Upstairs's atmosphere will keep you warm and toasty throughout the night while you dance and drink the night away! Be sure to put on your finest outfit, grab a vodka tonic at the bar, and head outside to enjoy a night of city lights and celeb status. Cheers!
This review of the Kimberly Hotel Rooftop Bar in NYC was published by Nazmiyal antique carpets in New York City.