Home Interior Decorating With Antique Rugs
Decorating Your Home's Interior With Antique Rugs
Search Our Comprehensive Collection of Antique Rugs and Carpets Online
Decorating With Antique Rugs – When deciding how to decorate with an antique rug, there are several important considerations that the buyer needs to keep in mind. First off, the buyer needs to determine the immediate purpose that the antique rug will serve.
Is it to serve primarily as insulation or to dampen sound, is it meant to be used as a decorative item, or possibly both? Is it for use at home or in a business environment? Is it for a formal or informal space that the person wishes to create? Is it desirable to use a room size rug, or perhaps, several smaller scatter size ones?  Is it to be used for the floor or as a form of textile art and a wall decoration? Perhaps a table covering, or a throw? Will it be used in a high traffic zone?
These are all vital considerations when approaching the concept of interior decorating with antique rugs!
At the end of the day, it is important to think about these things before deciding of the antique or vintage mid century rug. There are no set rules and people need to buy something that they love that will also take care of their needs.
Functional rug needs should never take a back seat or become a big compromise as far as aesthetics are concerned. loving what you buy is just as important the function it will be serving. For further information, consult our Consumer Guide to Buying Antique and Oriental Rugs.
Decorator Rugs for Designer Interiors
Experts say that the rug makes the room, but what exactly is it about decorator rugs that make interior designs so successful? There's a lot to be said for statement pieces that can stop visitors in their tracks, but that isn't what everyone is looking for.
Quietly elegant pieces that have an understated formality might be a better choice for a room that showcases fine works of art and decorative furnishings. Rugs, like people's tastes, are exceptionally diverse.
Decorator rugs can be in any style and from any era. Many regions, cities and workshops are revered for their contributions, but there are other pieces with the decorative subtleties that make them true gems. Traditional Persian patterns are always suitable for inclusion as decorator rugs.
Antique carpets from Bidjar, Malayer and Tabriz in Persia and provincial Turkish rugs from Oushak are often called decorator's rugs, but there are certainly contemporary and transitional area rugs that qualify too. Decorative rugs can feature custom designs, textural prints and patterns from celebrated artists, but in the end, it's how a rug is used that really makes the room.
How to Decorate a Room with Antique Rugs and Carpets
Different rooms require different approaches when decorating with antique rugs. Living and dining rooms areas may require more formal, refined designs and low contrasting color schemes. Larger workshop or city carpets tend to work well in such spaces. Dens or family rooms are less formal and are more suitable for rugs with bolder designs and a larger gamut of colors. Tribal rugs and village pieces exhibit these characteristics well and are often employed in less formal settings.
Bedrooms can be more flexible depending on one's own taste. Some choose a single large rug underneath the bed while others prefer multiple scatter rugs around the bed. Warm yet muted tones and thick rug pile usually will serve to create the most calming atmosphere for a bedroom, but, as with any room in the house, only one fundamental rule applies when decorating with antique rugs, and that is: Personal taste trumps all.
The fine and subtle art of interior decorating is a centuries old practice — indeed, for as long as humanity has been living inside rather than outside, it has been important for individual people and families to make their space their own. In our fast-paced, modern world, there are very few things more refreshing than relaxing or spending time in your own home, especially when yo you have made the effort to make that home feel like your own home. With the addition of a timeless, beautiful antique rug into such a space, your house can truly be a home. While decorating with antique rugs may seem daunting, don't worry — at the end of the day you should make your home feel comfortable, first and foremost.
Inspiration Boards for Interior Designs with Antique Rugs
Interior Designs with Antique Rugs  – A few weeks ago I discovered the joys of Polyvore and wrote a post with inspiration boards created around our fantastic collection of antique rugs. And now, I present to you, Inspiration Boards Round Two! A stunning antique Kashan carpet is the centerpiece in this inspired interior decorating theme of the below dining room .
English and American antiques matched with brass and gilded accent pieces give this room a Gilded Age New York feel. I can totally see Edith Wharton's Countess Olenska settling down into one of those rosewood dining chairs, sipping wine from a crystal glass, with a fabulous meal before her.
After all, Wharton did believe that a talented chef was the best investment a socialite could make, and the room that played host to the chef's creations must measure up aesthetically. Perhaps my favorite piece included in this design scheme is the mid-century Maison Charles brass console table.
At first glance, it is a simple and elegant table, but when you look closer, you'll discover whimsical horse heads on Lucite rings and a cleverly mirrored bottom shelf to reflect the items on the beveled glass shelf above. The chandelier is a French Empire-style of the 1940's, composed of brass and crystal. The deep coral colored paint plays with the reds in the antique Kashan, tying both floor and ceiling together.
In the center of the dining table is a Chinese vase from the turn of the nineteenth century, painted with butterflies and goldfish symbolizing beauty, romance, dreams, and material success.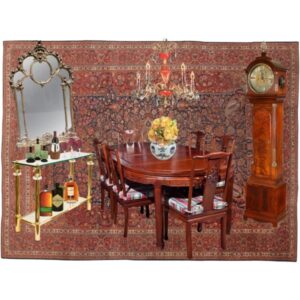 [above] Antique Kashan Carpet, Nazmiyal Collection; Mid-Century Rosewood Chinese Dining Room Set, The Antique & Artisan Center; Mahogany Tall Case Clock by Walter Durfee, The Stanley Weiss Collection; Vintage French Empire Style Red Tole Metal Brass Chandelier, Refined Furnishings; French Over Mantel Gilt Mirror, Golden & Associates; Maison Charles Brass and Glass Console Table, Jean-Marc Fray; Chinese Export Vase, Bardith
I know that this Antique Heriz Serapi inspiration board is just that—an interior decorating  inspiration board (sigh), but it so thoroughly evokes the feeling of being in a cozy and luxurious hunting lodge.
If I stare at the computer screen hard enough, I could almost smell the pine fire crackling in the hearth (not included), as I snuggle into that leather bed with smooth cotton sheets, warmly colored velvet shams, and thick down comforter. An iron Quatrefoil chandelier gives off a gentle glow throughout the room, illuminating the boldly woven, deeply colored Heriz Serapi as you sink your feet into the thick pile.
The driftwood end table speaks of forests and the outdoors, while the weathered wood cambers soften the somewhat harsh lines and heavy wooden feel of the room. Seven similarly colored fabrics cover the armchair, with a quilted, camel-colored fabric stretching across the chair's back.
Tassels hang above the intricately carved legs, and the floral embroidery lends a feminine touch to this very masculine room. An eighteenth century French painting of a masked woman is a playful touch, along with the pair of brass birds on the bedside table.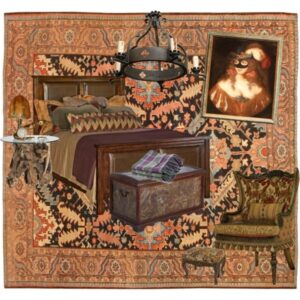 [above] Antique Heriz Serapi Rug, Nazmiyal Collection; Early 20th Century Five-light Iron Chandelier, Quatrefoil, Parc Monceau Fine Antiques & Accessories; Hand Crafted Oak Trunk, Ralph Lauren; Leather Panel Bed, Woolrich; Rare Oversized Tobacco Leaf, Resin and Brass Table Lamp, Gustavo Olivieri; Driftwood End Table, Crate & Barrel;  Antique Tapestry Footstool, Inessa Stewart's; Barbara Tight Back Chair, The Jeff Zimmerman Collection; "Masquerade" Oil Painting, French school, Florian Papp Incorporates; Pair of Brass Waterbirds, Robert Massello Antiques
This pretty bedroom done in soft pinks and greens is the fantasy of most girls, no matter how big or small they might be. In fact, it's somewhat similar to the interior decorating feel of the bedroom I grew up with, but unfortunately my mother (God love her) could never design something so divine.
The spectacular antique Turkish Oushak rug has a big, pale green field with delicate floral motifs.
Woven through with soft pink accents, the border is a dusty peach that continues the floral theme of the rug. It melds deliciously with the turn-of-the-century French brass bed. The bed covering is simple, yet still makes a statement with the Aubusson needlepoint pillow trimmed with little balled tassels. A vanity table is something that I have always wanted, yet never had, and this pretty cream-colored vanity is perfect in this room.
I paired it with a floral upholstered swivel vanity stool. The light pink end table is nearly the same shade as the armoire, fronted with a full length mirror which is, to say the least, a necessity. I adore the whimsy of the 1930's Italian table lamp and its rosy, fringed shade and porcelain figurines of musicians.
A rose scented Laduree candle beside the bed will bring sweet dreams of macaroons, as you rest your pained and tired feet, butchered from the heartbreakingly beautiful four and half inch Miu Miu heels, now discarded in one corner of the Oushak.
[above] Antique Turkish Oushak Rug, Nazmiyal Collection; French Brass Bed, Bush Antiques; Handmade Aubusson Inspired Throw Pillow; Hollywood Regency Style Painted Ottoman, Greenwich Living Antiques & Design Centré; Caprice Scented Candle, Ladurée; Capo Di Monte Muscians Table Lamp, Brady's Distinctive Lighting; Venini Chandelier, Fred Silberman; Pink Blush Louis XV Table, Sweetpea & Willow;  Upholstered Swivel Stool, Ballard Designs; Cream French Glazed Dressing Table, Sweetpea & Willow; Petite Mirrored Armoire, Bradshaw Kirchofer; Light Pink Leather Day Bag, Dolce & Gabbana; Satin Peep Toes, Miu Miu
A Silk Ottoman embroidery is a true sight to behold, and this one, with a turquoise field, pink and red floral sprays, and a subtle millefleurs border is a precious addition to interior decorating approach. Sunflowers are scattered in the center and corners of the embroidery, framed by twists of vines and blossoms.
How I long to kick my feet up on that Nina Campbell couch with large, bold flowers and pomegranates, and simply admire the embroidery on the wall before me. The throw blanket on the sofa was made by a traditional Welsh knitting circle, and the pillows are upholstered in a lovely Batik fabric.
The weathered brass octagonal accent table has a cool, vintage feel and is topped by a transitional papaya colored lamp and a little porcelain candle holder in the shape of a peony. A French 19th century inspired cocktail table is painted in cracked black and has a mirrored top, accented with gold details.
Two matching mid-century blown glass vases stand between the painted gold swirls on the cocktail table. Across the room are a buttery tub chair and a unique pillow printed with a red snake, tying itself in a knot. A curious Giclee Octopus diptych adds just the sort of whimsical detail that I love so much.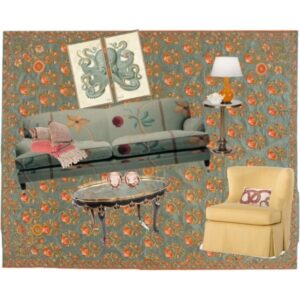 [above] Antique Ottoman Embroidery, Nazmiyal Collection; Collingwood Sofa, Nina Campbell;   Red Cwlwm Throw, Blodwen; Batik Tassel Pillows, Samantha Knapp for Tiger Lily's; Tucker Accent Table, William & Harrel; Devon Accent Lamp, Ballard Designs; Porcelain Peony Pillar Holder, Roost; Mirror Top Cocktail Table, John Richard; Pair of Mid-century Art Glass Vases, Surfing Cowboys; Lyla Tub Chair, Pearson; Red Snake Pillow, Samantha Knapp for Tiger Lily's; Silver Framed Octopus Diptych, Vintage Print Gallery
Incorporating Beautiful Vintage and Antique Rugs in Interiors
Persian and Oriental Antique Rugs in Interiors
Antique Rugs in Interiors – Antique rugs in interiors are tremendously versatile. Recently I have discovered Polyvore, which has taken my antique carpet fantasies even farther than I could have imagined. As I work at Nazmiyal, looking through beautiful rugs each day, I love to imagine how I would decorate a room around them, and with Polyvore, I could actually do it!
I matched most of the rugs with vintage and antique furniture from 1stdibs, but mixed in some modern pieces and accessories as well. One of my favorite creations was the pairing of a stunning antique Sultanabad with furniture that looks straight out of an English manor house. I even included a pair of limited edition Union Jack Hunter wellies (mud-free, of course) nestled by a needlepoint footstool.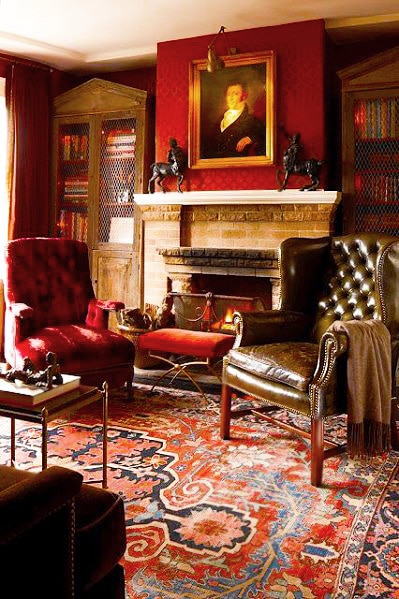 (John Dickinson Style Brass, Steel & Milk Glass Lamp, Assemblage Ltd.; 19th Century English Oak Bobbin Turned Octagonal Table, Yew Tree House Antiques; A George III Satinwood Bed, Kentshire Galleries Ltd.; Sheraton Carved Mahogany Dressing Bureau, Stanley Weiss Collection; Antique Tapestry Footstool, Inessa Stewart's Antiques & Interiors; Vintage Union Jack-Print Wellies, Hunter; Antique Sultanabad-Ziegler & Co., Nazmiyal)
Later on, I got a bit kitschy and paired this lovely tangerine antique Art Deco French carpet with a Frencn dining set from the 1950's, and a uniquely gorgeous modern Marjorie Skouras chandelier made with real turquoise.
(Sculpted Marble Glass-top Table with Six Chairs, Fleur; Turquoise Feelie-Rose Cabat, Diane Rosenstein Fine Art; Turquoise Empire Chandelier, Marjorie Skouras Design; Antique Art Deco French Rug, Nazmiyal)
Still feeling kitschy and glam, I knocked off a living room set with a Vintage rug from Morocco.  Inspired by the turquoise accents in the rug, I matched it with a set of 19th century neoclassical armchairs and a Donald Deskey footstool from the 1930's.  Bringing it back to the 20th century is a magenta Currey & Company pendant fixture and a Marjorie Skouras Lucite coffee table. Topping off the coffee table is a dreamy Picasso vase.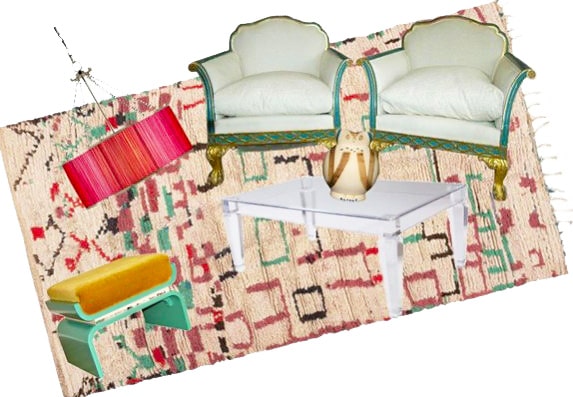 (Donald Deskey Moderne Lacquered Wood Bench, Satyricon; Sultana Pendant, Marjorie Skouras Design; Neoclassic Armchairs, Soniat House Antiques; Eugenie Coffee Table, Marjorie Skouras Design; Little Owl- Pablo Picasso, Galerie Harter; Mid-century Moroccan Rug, Nazmiyal)
Inspired by traditional Swedish kilims and the wealth of Gustavian furniture on 1stdibs, I matched a vintage Swedish rug with an 18th century Gustavian day bed and a sky-blue and white painted French corner cabinet from the 17th century.  I included a pretty 1930's Orrefors light fixture and an early 20th century Swedish painting (I couldn't resist the smiling Golden Retriever depicted).
(French corner cabinet, Sarlo; Gustavian Swedish Daybed, C'est La Vie; Portrait of Two Boys and Their Dog-Ivan Lindhe, Comer & Co.; Marta Maas Fjetterstorm Vintage Swedish Scandinavian Kilim Rug, Nazmiyal)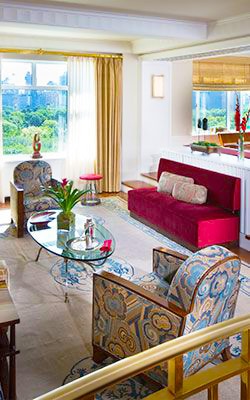 And, for the piece de resistance, is the endearingly tacky Barbie-inspired interior set with an antique Savonnerie carpet.  I started with the dining room set— a 1940's American table and chairs fitted in silver leaf and fuchsia upholstery.
Atop the table is a pretty floral Royal Doultan tea set and pink-striped Italian glass objects.  Hanging above is a bubblegum pink chandelier and an early 20th century framed marabou-feather fan. I also included a red and magenta chaise lounge from the bespoke furniture company, Squint Limited, and a Hollywood Regency style painted ottoman, upholstered in velvet.  Tying it all in is an outfit that would not be amiss on Barbie herself: a hot pink Raphael Cennamo cocktail dress and suede Giuseppe Zanotti sandals with a big bow.
(Silk Gazar Strapless Cocktail Dress, Raphael Cennamo; Gypsy Pink Chandelier, French Bedroom Company; Circa 1910 Pink Marabou & Tortoiseshell Framed Fan, Treasure Keepers; Silver Leafed Dining Suite in the Style on James Mont, Cain Modern; Three Piece Pink New Country Roses Tea Set, Royal Doultan; Berito Glass Vase-Alessandro Mendini for Venini, Themes and Variations; Seguso Pink Opaline Shell, Gustavo Olivieri Antiques; Hollywood Regency Style Painted Ottoman, Greenwich Living Antiques & Design; Bow Sandal, Giuseppe Zanotti; The French Chaise, Squint Limited; Antique Savonnerie Rug, Nazmiyal)
This interior design blog about interior decorating with antique rugs was published by Nazmiyal Antique Rugs