Some Inspirations for Decorating Halloween Table Settings
Ghouls and goblins, we are one week away from everyone's favorite holiday that makes for a perfect excuse to go all out in style and design. Halloween is coming up, and since it falls on a Monday this year, this weekend is the time to conjure your witches, vampires, and werewolves to celebrate the festivities. Nothing breaks in the holiday season like a good old Halloween party full of fabulous costumes, delectable drinks, and salivating treats. Let's not forget about the decor! (After all, this is a design blog!)
This spooktacular weekend make sure to go all out with the decor by adding class and decadence to your home for a lavish party that will make you the master of ceremonies for years to come. Instead of dishing out the tacky mock spider webs, kitschy party favors, and jello-mold body parts, bust out the macabre styling of true Halloween social status.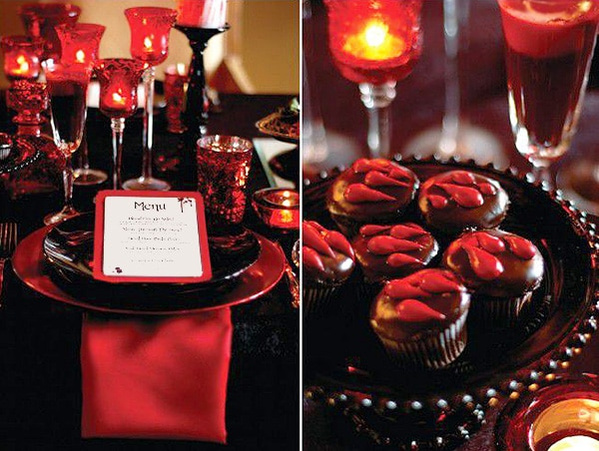 Vampire Lairs Halloween Table Settings:
Rooms full of blood red linen, wrought-iron candelabras, drop chandeliers, and enough candles to really heat up the night. Let's face it vampires are so in, it's not even funny. Decking out your home in a classy and stylish way is easy when tuning your tastes towards an old-world vampire lair decor scene.
Gaudy goblets, devilish decor, and rich refinery are key when it comes to this look.
Modernist Approach to Halloween Table Settings:
Take a chic stance on Halloween especially if you already have the swank loft or penthouse. Use what you got–your modern furniture, nouveau decor, and beautiful backdrop make for the perfect setting for your ghoulish guests. In order to bring out the holiday motif, theme the night out by sticking to classic colors of black and orange. Dust off the stemless martini glasses and center them around a ghostly punch bowl.
Try kicking things up a bit by switching out the light-bulbs for black-lights whilst everyone dances the night away to electrohouse music in the midst of a nice eerie fog. (Note: fog machines are totally acceptable for Halloween. Actually, it's thoroughly encouraged.)
Classic Approach:
Sometimes, a good old monster-mash is in order. Halloween is a night when adults get to relive their childish antics for just one evening. So, why not bring out the jack-o-lanterns, candy corn, candy apples, and cauldrons. Remember, whichever way you wind up spending this haunting holiday, bring the class, stick with style, and have fun! Trick or treat, boys and girls!